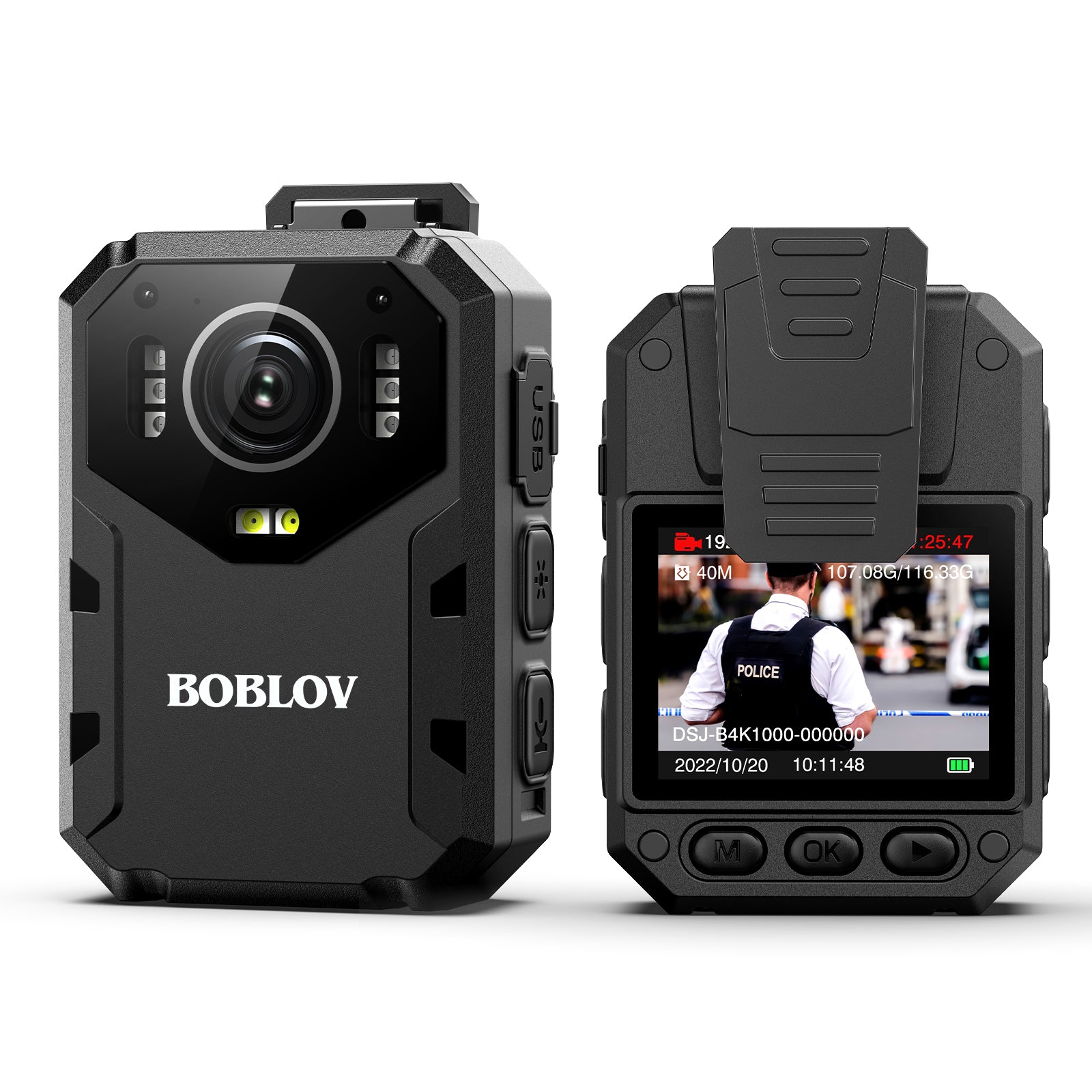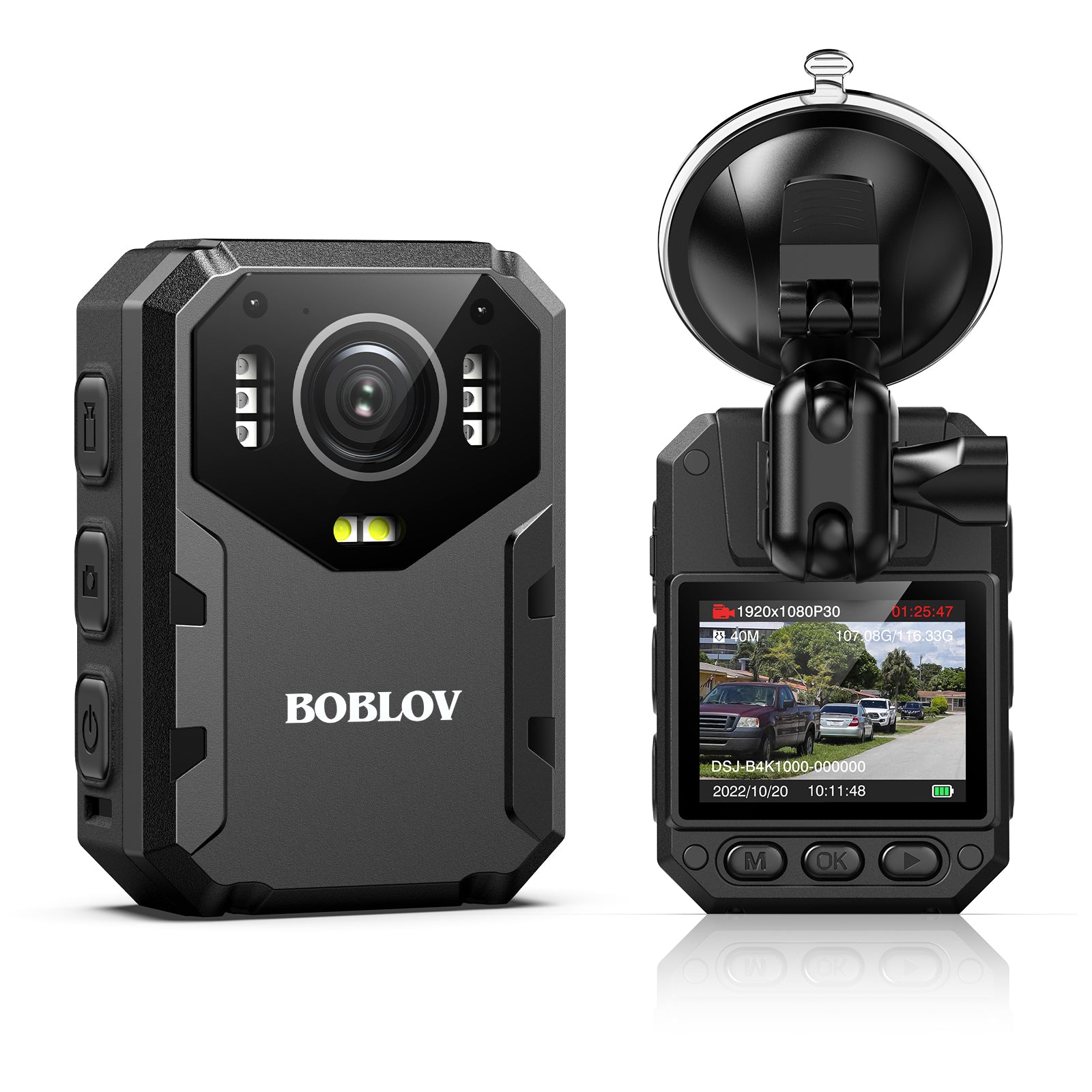 BOBLOV B4K1 128GB 4K Body Camera with GPS, 3100mAh Battery for 10-12hours Shooting, With Car Suction Mount and Car Charger
【4K Body Worn Camera】We know that our regular customers must have waited too long for the 4K camera. Finally, it was released, using the latest sensor and chipset, ranging from 4K/30fps to 2160P, 40M for photo shooting.

【GPS Function Supported】Enabled the GPS function in the setting, get more location details of the video. B4K1 Body Worn Camera could record videos along with the moving route, watch videos on seller-provided GPS Player, and trace back the routing of video files.

【3100 mAh Rechargeable Battery for 10-12 use】The built-in 3100 mAh battery of B4K1 video recorder, charging it fully for 4-6 hours in the standard adapter and USB cable. It supports a 12hours recording time (1080P, IR Off) and 20 hours standby time. All-day and high-strength work recording.

【Comes with Car Mount Bracket and Car Charger】If you are a travel enthusiast and like to record the scenery along the way, this two in one camera is a very good choice. It can support 10 hours of video recording without connected to a car. However, it should be noted that the working temperature of the machine is - 10 ℃ - 45 ℃. Please do not use the camera when the car is hot or cold, otherwise the battery may be broken.

【Red-Blue Alarm】The Camera comes with fun function with Red-Blue Alarm, if you are in emergency situation, you can turn on this function for attract attention.
BOBLOV New Release ---B4K1 Model
4K/2160P Video camera with GPS feature is provided now!
40MP Photo Size;
Either the Red-blue alarm or white illumination could boost the usage of the body-mounted camera in your daily record.
Included a Vehicle Windshield Suction Bracket, could choose to attach the camera to your vehicle when driving.
Recommended Using/ Wearing Methods of the B4K1 Camcorder
Attached on the car windshield: Working as a dash camera
The package includes a Vehicle Windshield Suction Bracket and a Vehicle Charger. Turn on Car Mode in the camera setting, and connect B4K1 with your car.
Note please: In the power-off mode of the camera, connect the camera to the vehicle's 12Vdc power port with the 12Vdc port charger. Then in the ignition status of the vehicle, the camera will auto-record videos.
Clamping on the clothes: wearing position- shoulder strap/pocket on front chest, waistband...
Using 360 degrees rotatable short clip or 180 degrees rotatable long clip, B4K1 is a decent camera to wear, net weight of only 132g/4.7oz, and won't feel the burden.
Product Diagram & What You Will Get
Packaging List:
B4K1 Body Worn Camera X 1

Vehicle Windshield Suction Bracket X 1

Vehicle Charger X 1

Short 360° Rotate Back Clip X 1

Long 180° Rotate Shoulder Clip X 1

USB Cable X 1

User Manual X 1
Let B4K1 Video Recorder light your Life!
Multiple working scenarios are suitable for wearing our new design body Wearable cameras:
Pizza/Food Delivery

Parcel Delivery

Travel Record

Obtain Evidence

Reception Clients

Group Discussion

Sales Assistant

Serving Jobs
Attach to working uniforms, coats, aprons, T-Shirts, and so on.
Note please. Sales price online

doesn't

include tax. The buyer should pay tax for customs locally by himself.