BOBLOV LF600/ LF600AG rangefinder brings you the next evolution of flag-lock with vibration technology.
Note please.LF600 has not slope function.
                      LF600AG can support slope function.
LF600 Golf Rangefinder without Slope Download
LF600AG Golf Rangefinder Slope Version Manual Download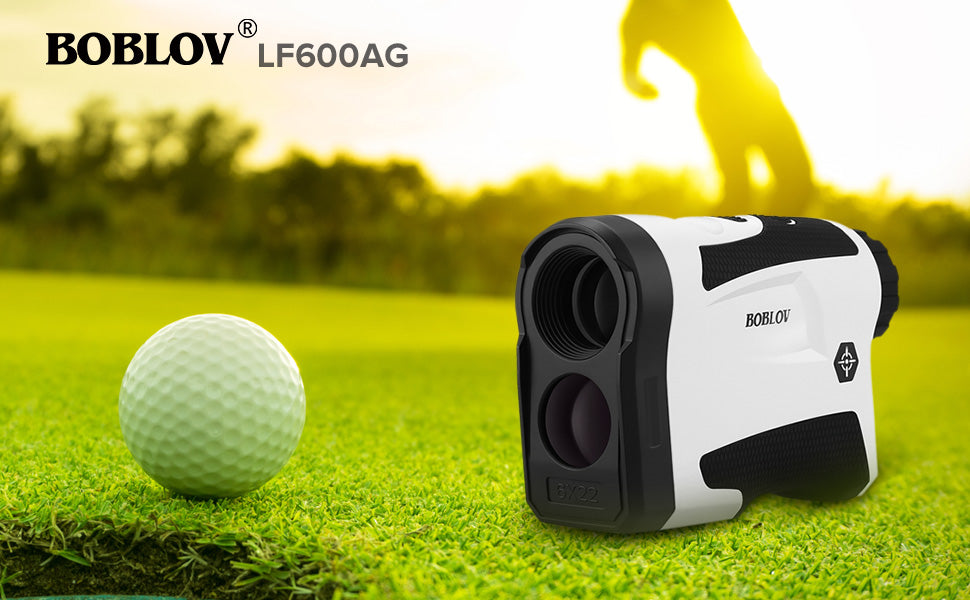 Slope compensation helps to improve your golf skill,what's more, it can be turned off by switch, and allows you to toggle between elevation measuring slope and tournament legal non-slope modes.
⛳【Pin acquisition with 1s Fast Flag Locking】Provides 1s fast measurement with 1 yard accuracy, together with Pinsensor technology to accurately measure overlapping subjects, locking range up to 200 yards, perfect for measuring golf flags,you can easily Switch units between meters and yards.
⛳【Customized Switch Button to control Vibration on/off or Slope on/off】LF600 Golf distance finder customized a switch button to control Virabtion features in LF600G version(without slope),control Slope On/Off features in LF600AG version(with Slope).You can turn it on/off easily as your need.
⛳【Adequate clarity and dependable accuracy】 As a rangefinder, the distance accuracy is pretty vital, We have customer who compares the LF600 and their golf GPS device on the golf cours, The slope distance is about 1-3 yards off within 200Yds, and is more than adequate for 99% of the ranges.
⛳【The golf scope enquiped with three modes】Ranging mode,Flag locking mode and Speed mode. Support speed measurement, short press the power button after targeting the moving object, the speed data will be displayed on the screen. A good tool for your for vehicle watching.
⛳【Premium golf/hunting mate and Battery USB Charging】Magnification x objective is 6x 22mm; range measure accuracy is ±1yard,speed measure accuracy ±5km/h.Perfect for carrying while golfing or hunting, or for measuring and surveying without extra weight or bulk. Built-in rechargeable battery for device,No worry to change battery of device and Economic-friendly
Note please.LF600 has not slope function.
                      LF600AG can support slope function.
Basic Spec:
Range: 6.6~656(yd) for LF600AG

Slope: On/Off optional

Vibration: Supported

Range Measuring Accuracy: +/- 1Yard with 200yards, 0.4% out of 200yards

Measuring Range of Speed: 20~300km/h

Laser type: 905nm (Class 1 laser)

Magnification: 6X

Battery: build-in lithium battery3.7V/800mAh

Weight: 168g/5.9oz

FAQ,


Question 1,Is the battery replaceable? 


Answer,Sorry I have no idea, as I have used it quite a few times at the gun range and havnt even had to recharge it yet after the initial charging.




Question 2,Has anyone used it in the rain? 

Answer,No I have not, I use it for golf only and I have not been caught out in the rain yet.




Question 3,How do you change boblov from meters to yards?

Answer,Hello, In the boot state, please long press the mode button about 3 seconds to change it.




Question 4,The vision is super blurry and I can hardly tell what anything is looking through it. Is it defective or suppose to be like that? 

Answer,It should be quite clear, not blurry. You are looking through the eyepiece, right ?




Question 5,How do you change from meters to yards? 

Answer,hit the on / off button on the top and you will change modes...M1 is yards.




Question 6, Once you change it to yards, is that the default measurement, or do you have to change it every time? 

Answer, It stays yards unless you hit the button accidentally and change the mode. My hand shakes some times so I hit it twice to make sure the yardage reading is the same.




Question 7,Is there a low-battery indicator? 

Answer,Yes. There is battery level indicator.




Question 8,Is it water resistant? 




Answer, I would say yes at a good guess since it is has a hard case and the control buttons seem well sealed...plus with the soft cover I think it would be well protected from the elements and rain.




Question 9,How long does it take to charge? 

Answer,I have charged once weeks ago and still works. Friend told me must have a self autooff when not in use.




Question 10, Does it Convert to yardage? 

Answer,Yes,you can change from yards and meters.




Question 11,my hands shake will this be a problem using this unit .

Answer, Yes, it will add difficulty. My hands do not shake, and I still have to use both hands, especially true if it's windy. The way I get around this is taking multiple readings, and using the readings alongside distance markers to verify accuracy. Hope this helps.




Question 12,Can i Charge this with my iPhone charger plug? 

Answer,It comes with a plug that goes to USB receptacle so it can be charged with a laptop or a phone charger that has a USB plug in.




Question 13,Does it only display in meters or does it read out in yards? 

Answer,Does it only display in meters or does it read out in yards? 




Question 14,How many hours does it need to charge?

Answer,I charged it one time Day I got it overnight, and literally haven't charged it since. I've played 15 rounds since purchase. One time it gave me funky yardage. Hard reset and hasn't happened since. For the money, Id buy it again 100/100 times. 




Question 15,To store the Boblov rangefinder over the winter do you charge it fully before storing?

Answer,Yes, Please recharge 80% power for golf range finder before storing.

Question16,love my range finder but does not come with the adapter that plugs in the wall..cannot find anything less than 5v at the store...and its says 3.7v on the rangefinder...can I do damage to my device?

Answer, LF600G golf range finder can use DC5V 1A power adapter.I think your mobile phone has this kind of power adapter.Right?

Question 17,Where can I download manual of LF600?
Answer 17, Download from here . https://drive.google.com/drive/folders/1PBH5EW_TwCBhG7r0QMQ5Q8G7FheZdUIz?usp=sharing
Shipping
This item Ships to all over the world
Delivery
Estimated between and
Will usually ship within 3 business days.
| | | |
| --- | --- | --- |
| |     | Please allow 10-60 days for your order to arrive. We source products from all over the world to bring you epic offers and the lowest prices. This means sometimes you have to wait a little longer to get your order but it's always worth it! |
| | | Returns are easy, simply contact us for a returns number and send your item to our returns centre for fast processing. We'll get you a replacement or refund in a snap! |
Here are 5 more great reasons to buy from us:
| | | |
| --- | --- | --- |
| |     | We Put Our Customers First to us. If it is defective, our factory will offer 1 year warranty to do free repair.Send me an email to support@boblov.com |
| | | Returns are easy, simply contact us for a returns number and send your item to our returns centre for fast processing. We'll get you a replacement or refund in a snap! |
| | | Best Price. We can offer you high-quality products at the best price.  |
| | | Good After-Sales Support. If you have any question of our products,we are pleased to help you online.Our engineer will reply you in the Facebook group. |
| | | Ordering from Shoptimized is 100% safe and secure so you can rest easy. Your personal details are never shared, sold or rented to anyone either. |
Prompt positive service
Wow! After 3 years of use, I had a focus issue with the LF600G. It was promptly replaced without hesitation! Great unit, glad I raised with Boblov.
Excellent service
Good range finder at an affordable price. Had an issue with the battery and it was prompty replaced.