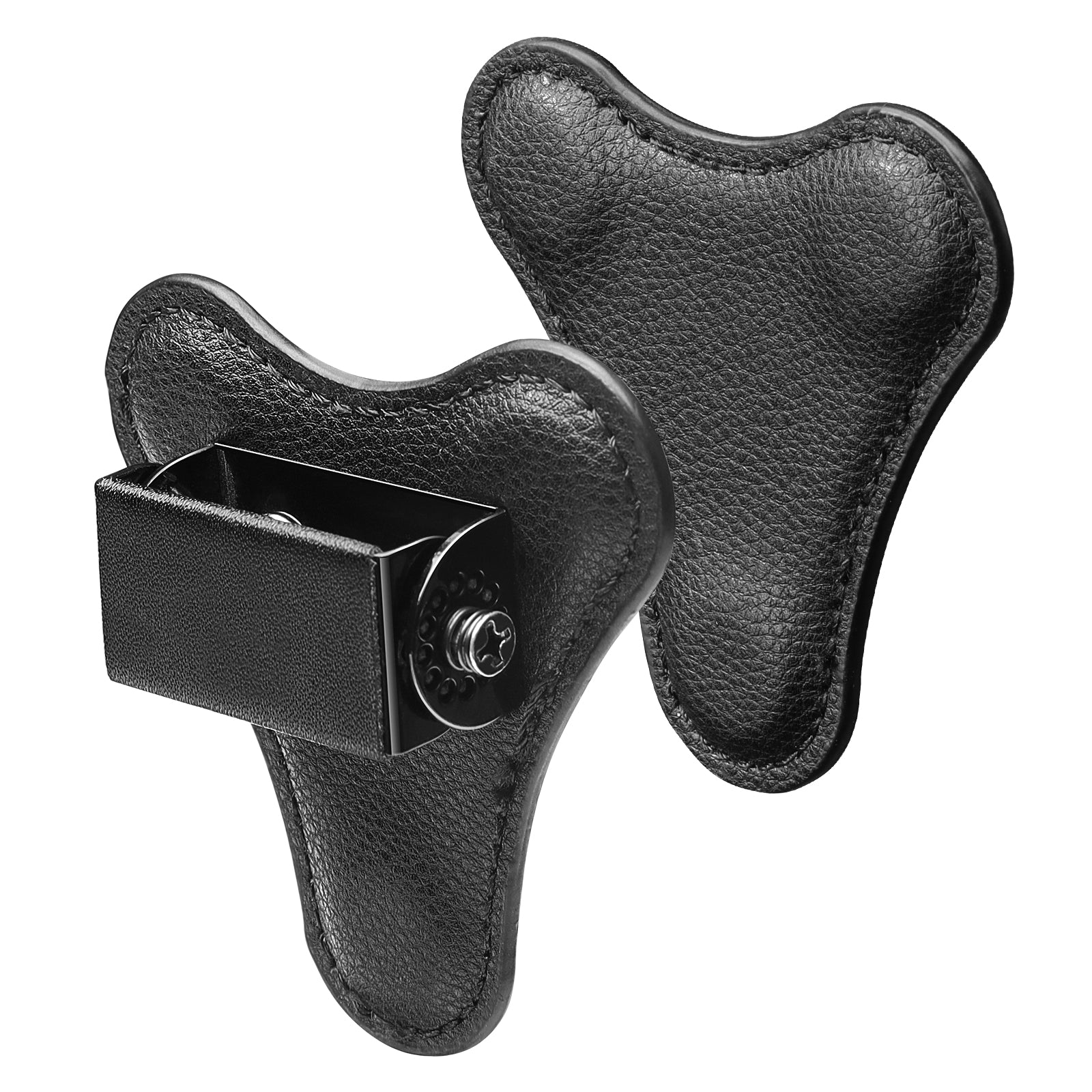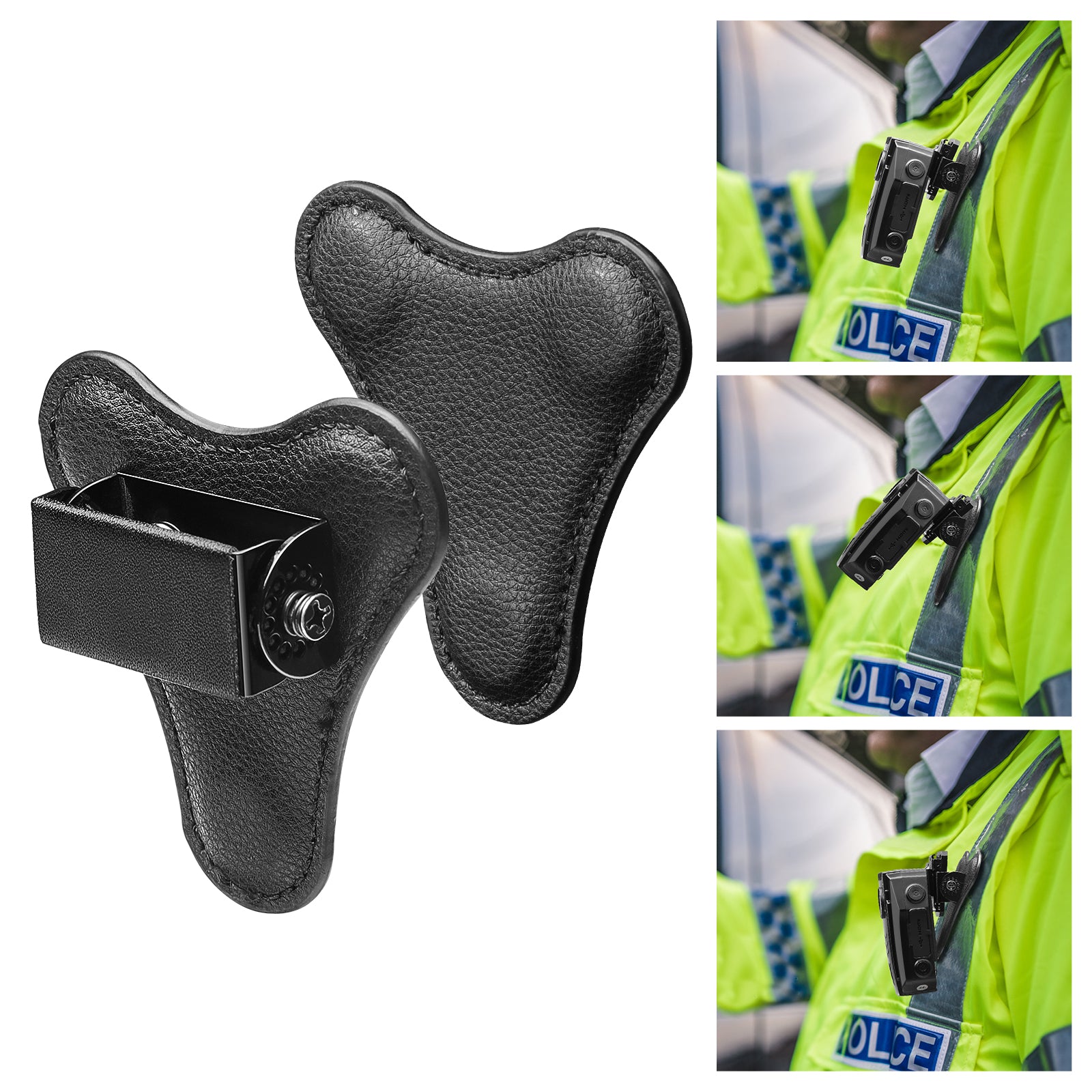 BOBLOV Body Camera Magnet Mount, Support 45° Angle Adjustable for Body Camera, 6 Strong Magnets, Universal Magnetic Suction Clip for All model Body Cameras, Make from Durable Leather, Stick to Clothes
【6pcs Strong Magnetic Force:】When the two pieces of suede lining are clamped together, a strong magnetic suction will be generated. Getting ease when using a body camera, not easy to fall, free hands.

【How To Use the Magnetic Suction:】The clip with an adjustable plate is the "Outside" piece. Put the "inside" on the inside of the clothes and the "outside" on the outside of the clothes. The two pieces overlap at the same position and stay securely, and then insert the law enforcement device in the prominent gap. Adjust the angle of the clips to get a good view of police body camera. A slight vibration cannot make it fall.

【Universal Body Camera Clip with High-quality Materials:】Two pics universal clips for all brand body cameras and models, Use high-quality black leather, safe, non-toxic, odorless, the suede sides will not cause damage to clothes. Take good care of the leather, wiping dirt for long use.

【Easy To Carry with Pocket Size: 】The Magnetic Suction Clips has only two leather sheets with magnets, which is very convenient to carry.And it is 8x9cm dimension. It can be fixed on clothes at any time or put in pockets. It is suitable for most law enforcement instruments cameras and also suitable for objects with clips, even under heavy conditions still stay magnetic.

【 45 Degrees Adjustable for Body Camera】The 45 degrees adjustable plate of the outside clip is default flat. Press the Screw dot and rotate the plate at the same time to record in a good view. Because the magnetic force is very strong, be careful not to pinch your hands when using it. If the positions of the two clips are opposite, the magnetic force will decrease and easily fall off
BOBLOV Universal Magnetic Suction Back Clips for all brands and models Body Camera, Strong 6 Strong Magnets to mount
Magnetic clips are smaller in size and lighter weight. When they attract each other on the clothes, won't be clumsy or obstructing the work.

The small clips could adjust the angle, support 45 degrees adjustment. During law enforcement or record for your wonderful traveling, it could help you get a good view angle of your body cameras.

Adopts a leather material, two pieces of clips are good-looking enough for clothes decoration.

6 pcs strong magnets inside could help you get a good position of the body cam on your body. Supporting all the brands and models of police body cameras, these two small and compact clips could free your hands when recording.
Application scenarios of two kinds of clips
Material: Leather vs Silica
Support adjustment angle: 45° Angle Adjustment vs Don't support
Weight: 50g vs 180g
Comparing with the old Silica Magnetic Clips

The newly released clips adopt a small size and are lightweight, won't give press to your body. The net weight of the two pieces is only 50g.

Comparing with the old silica magnetic clips, the new one could adjust the angle, searching for a better recording view angle for your body camera. Long press the Screw, then adjust the black plate.
Follow the below steps to get the clips help your work:
Depart the two clips.

Get the body camera fill into the "Outside" clip. *Please notice the magnetic suction black clips could only be compatible with the body camera's short clips.

Put the "Inside" clip into the clothes

Magnet the two clips. Long press the screw to adjust the angle of the camera

Get the camera to work
6 pcs Strong Magnets attract each other to form the strongest power
6 Strong Magnets are not easy to fall, could hold all the model body cameras easily.
When magnet the two clips, be careful and avoid getting caught.
After mounting, could be sturdy and anti-falling even jumping or shaking.
Note please. Sales price online

 

doesn't include tax

. The buyer should pay tax for customs locally by himself.